You know you did something right when people start to compare your watch to one with a price tag three times as high.
Whether it was justified or not to criticize the Breitling Premier chronograph for being a very expensive Hamilton Intra-Matic Auto Chrono (Michael Stockton mentioned it already in his Breitling Premier B01 review here), the comments do stick with you. I handled both the Hamilton Intra-Matic Chrono and the Breitling Premier B01, and I prefer the looks of the Hamilton. However, let's make it clear that this doesn't mean that the €1995 will buy you the same or better quality and finished watch as the €7500 Breitling. It just might buy you a better-looking watch. But again, the comments have been made a number of times on social media and they are in 'the air' for sure.
Hamilton Intra-Matic Chrono
The comparison or comments aside, with the Intra-Matic chronograph, Hamilton proves that it has an interesting heritage and is able to use it the right way. And there's a link to Breitling of course, as the original Hamilton Chrono-Matic A chronograph that inspired this model was powered by a caliber 11 chronograph movement. This movement was developed by Heuer(-Leonidas), Breitling and Hamilton(-Buren).
It makes me wonder who the target audience is for the new Hamilton Intra-Matic. The guys (and girls) who love vintage watches are probably attracted to the original 37mm Chrono-Matic with caliber 11 movement, but might go for the modern Intra-Matic Chrono instead as the retail price is much lower than a minty condition original Chrono-Matic. But I suspect that it is the person who simply loves the look of a vintage chronograph but doesn't want to go for the original Chrono-Matic. This can be a number of reasons, aside from the price and size of the original Hamilton Chrono-Matic (A) watch for example. When talking to people who recently started out with (collecting) mechanical watches, they like the look of vintage pieces but are scared of making (expensive) mistakes. Parts that aren't original are often difficult to discover (even for pros) and then there's the risk of damaging the watch resulting in expensive repairs, or perhaps in a watch that can't be repaired at all.
So, enter the vintage-inspired Hamilton Intra-Matic Chrono in blue. In August last year, we already showed you the white and black (Panda) Intra-Matic (in this article) and my colleague Balazs also showed you this new blue version already before (here). This watch is so popular though, that we decided to have again a look at it, this time a bit more into detail.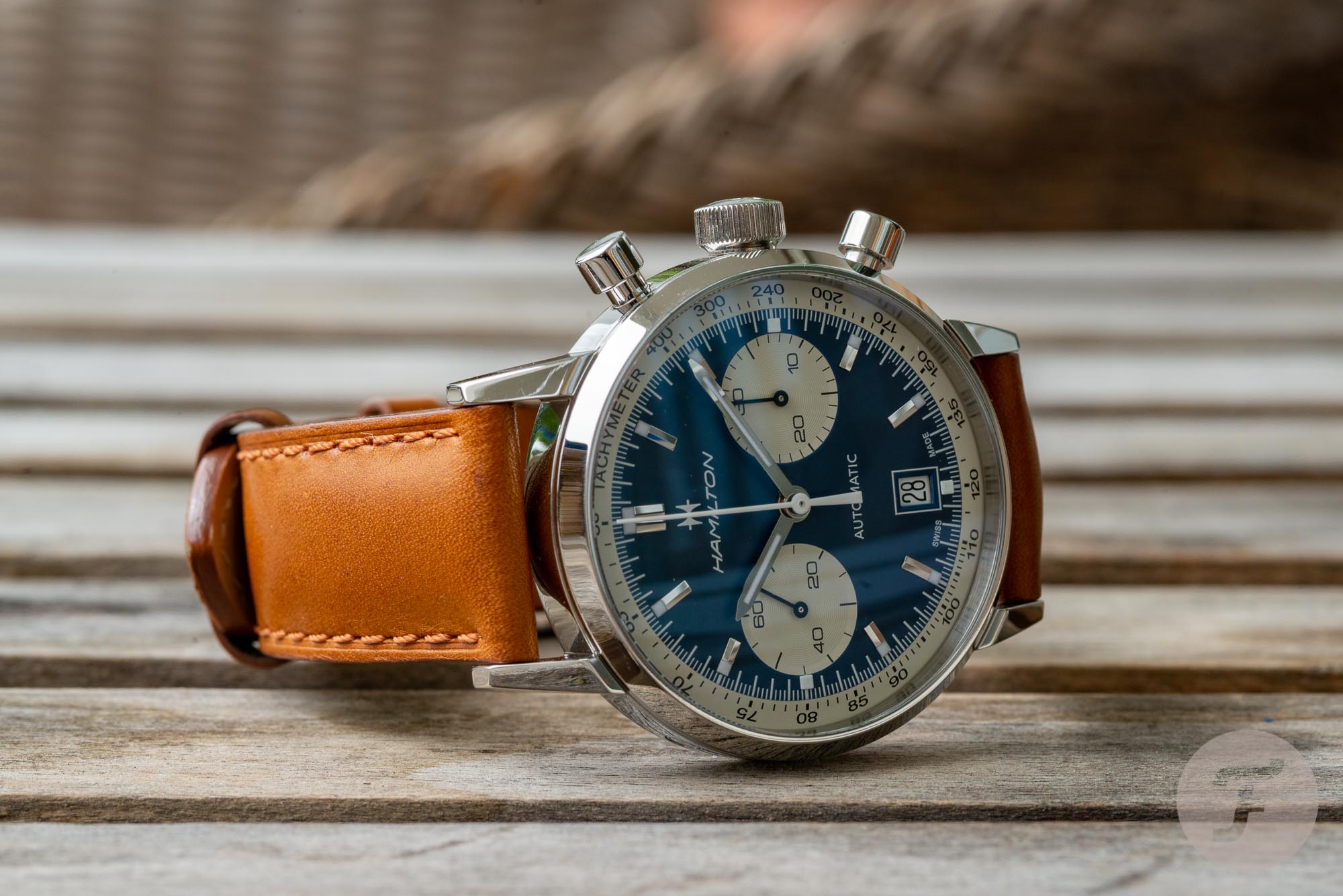 Does that 3mm make a difference? I will leave that up to you.
Lug-to-Lug
A few years ago, the lug-to-lug size did not seem to be very important. Today, it is one of the first things that people ask, right after the inquiry about the diameter. And perhaps they are right (it is still uncommon to be officially communicated by brands), as in most cases, the lug-to-lug size is what matters on the wrist and says something about the comfort of a certain watch. A few days ago, I wrote about the Oris Divers Sixty-Five Chronograph and included the lug-to-lug size of 52mm in the specifications chart. Immediately, someone responded on our Instagram feed that he loves the watch but the lug-to-lug size spoiled it for him. With a diameter of 43mm, it was an easy watch to wear on my 18cm wrist for sure, but the 52mm lug-to-lug size also makes it almost the maximum 'length' my wrist can handle. This Hamilton measures a more modest 40mm in diameter and, drumroll, the lug-to-lug size is 'just' 49mm. Does that 3mm make a difference? I will leave that up to you. It is still 1mm more than my 42mm Speedmaster Professional with its lug-to-lug size of 48mm. As you can see with these three chronographs, the diameters are perhaps even less important than the lug-to-lug size as the Hamilton has the smallest diameter, but wears 'larger' (or would 'longer' be a better word?) on the wrist than my Speedmaster. It also shows once more, that you really should try a few watches before you buy one. Not every wrist is the same, even when you have larger wrists, a smaller watch might look fine on you and vice versa.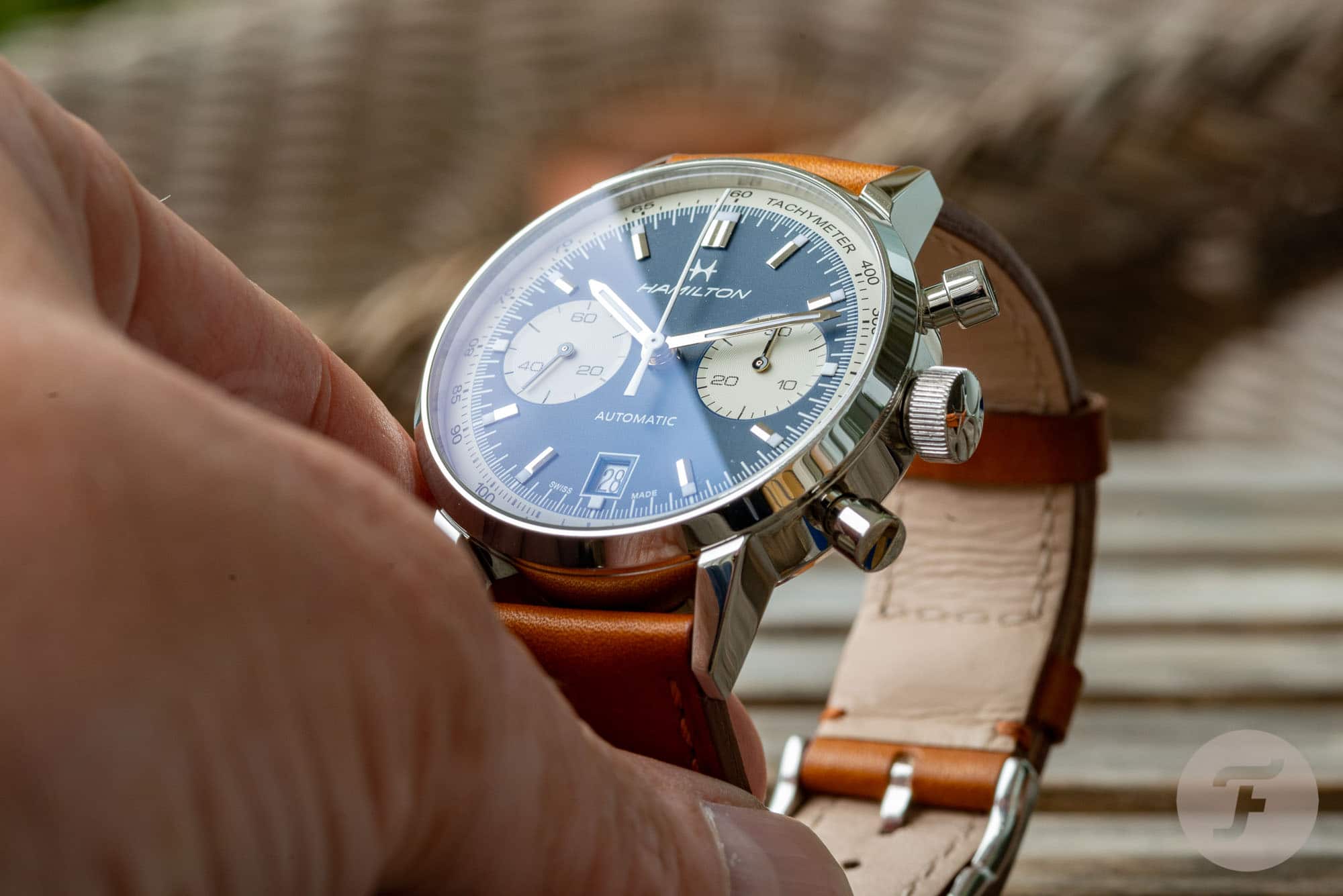 …it adds a bit of sophistication to the watch.
Elegant Case
Hamilton followed the original round case design of the Chrono-Matic A watch for their Intra-Matic Chronograph. Round and with straight lugs. The thickness of the case is 14.7mm, which is relatively thick for its 40mm diameter. But I still consider the case to be elegant due to its round shape and lack of crown guards. The long lugs are facing downwards, and the side of the case shows a large crown and two pump pushers. The crown doesn't necessarily need to be this large, considering it is a self-winding movement, but it does look nice and vintage inspired. The original crown of the caliber 11 model from the 1960s was a bit thinner though. Hamilton could have gone down that path as well to make it even more elegant looking. As you can see, the case is entirely polished. I am not a fan of that, as it is a bit too shiny for my taste. I like watch cases to have a combination of polished and (satin) brushed surfaces, it adds a bit of sophistication to the watch.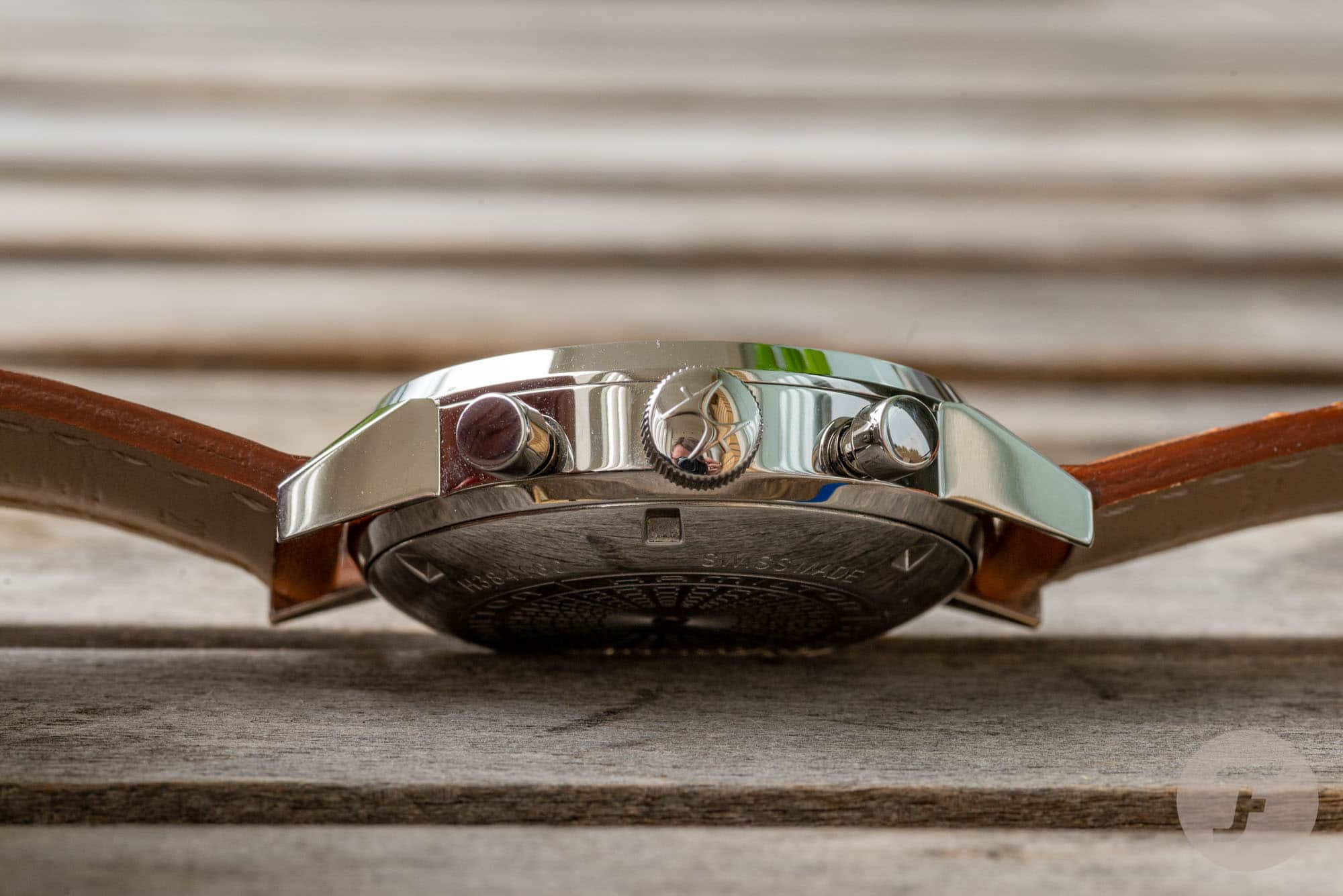 You will find a screw-in case back on this Hamilton Intra-Matic, also with a polished finish. The case back has been engraved with the Hamilton H logo as well as all the necessary information about the watch.
Caliber H-31 Movement
Underneath the engraved stainless steel case back, there's the power source of the Hamilton Intra-Matic Chrono. As Balazs already described in detail, this movement is based on the ETA 7753 chronograph movement from the Swatch Group (to which Hamilton belongs as well). It is a 60 hours power reserve movement, with 27 jewels and a ticking speed of 28,800vph. The original 7753 movement has a power reserve of 42 hours, but by using a different mainspring, it has been increased with an additional 18 hours. Just like that other famous ETA/Valjoux movement, the 7750, the 7753 only winds in one direction (clockwise). This causes the movement to have a free spin in the other direction, which results in the famous wobbling effect on the movement. Besides the time, chronograph seconds and minutes, there's also a date function. Setting/correcting the date is done via a small corrector in the case band at 10 o'clock.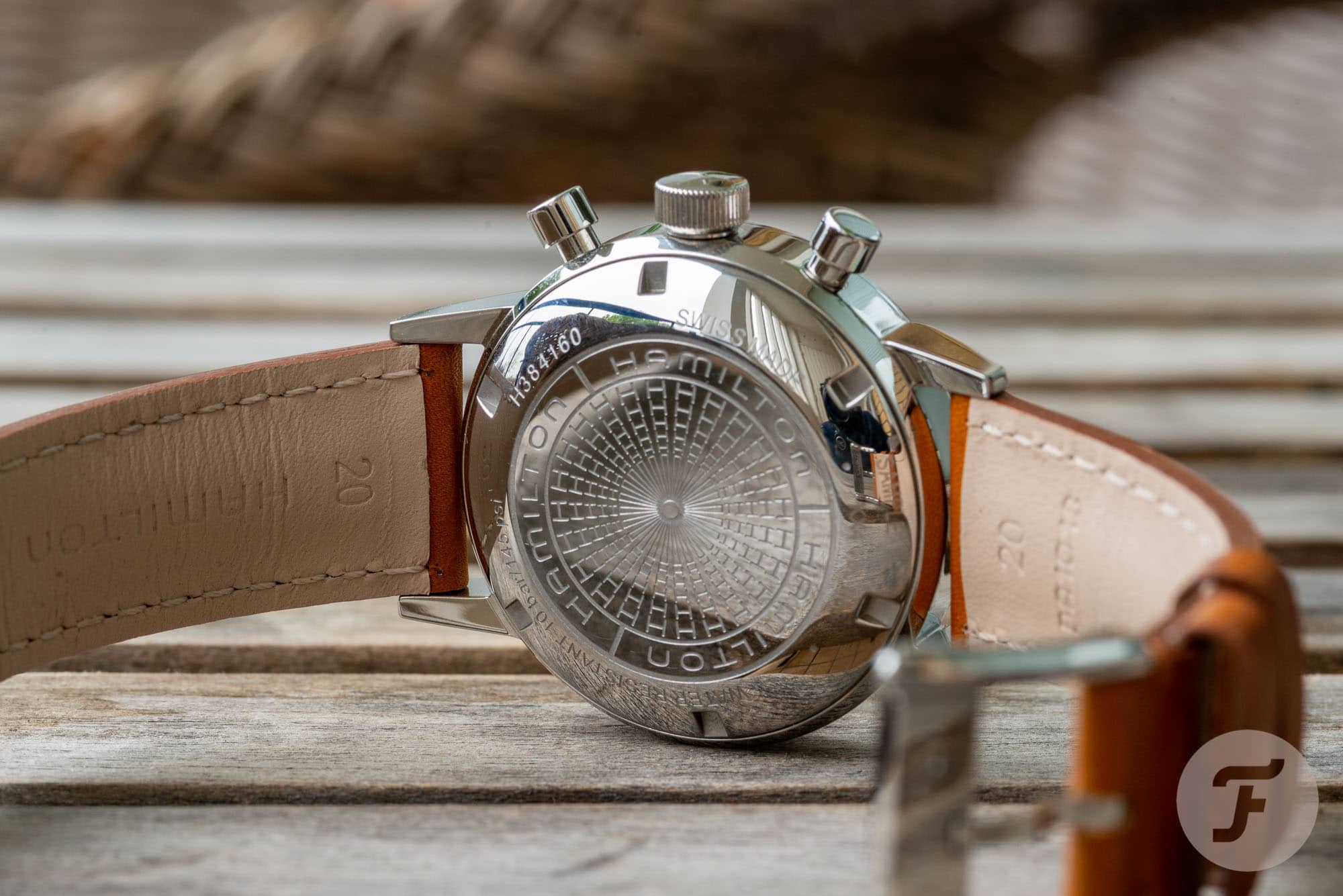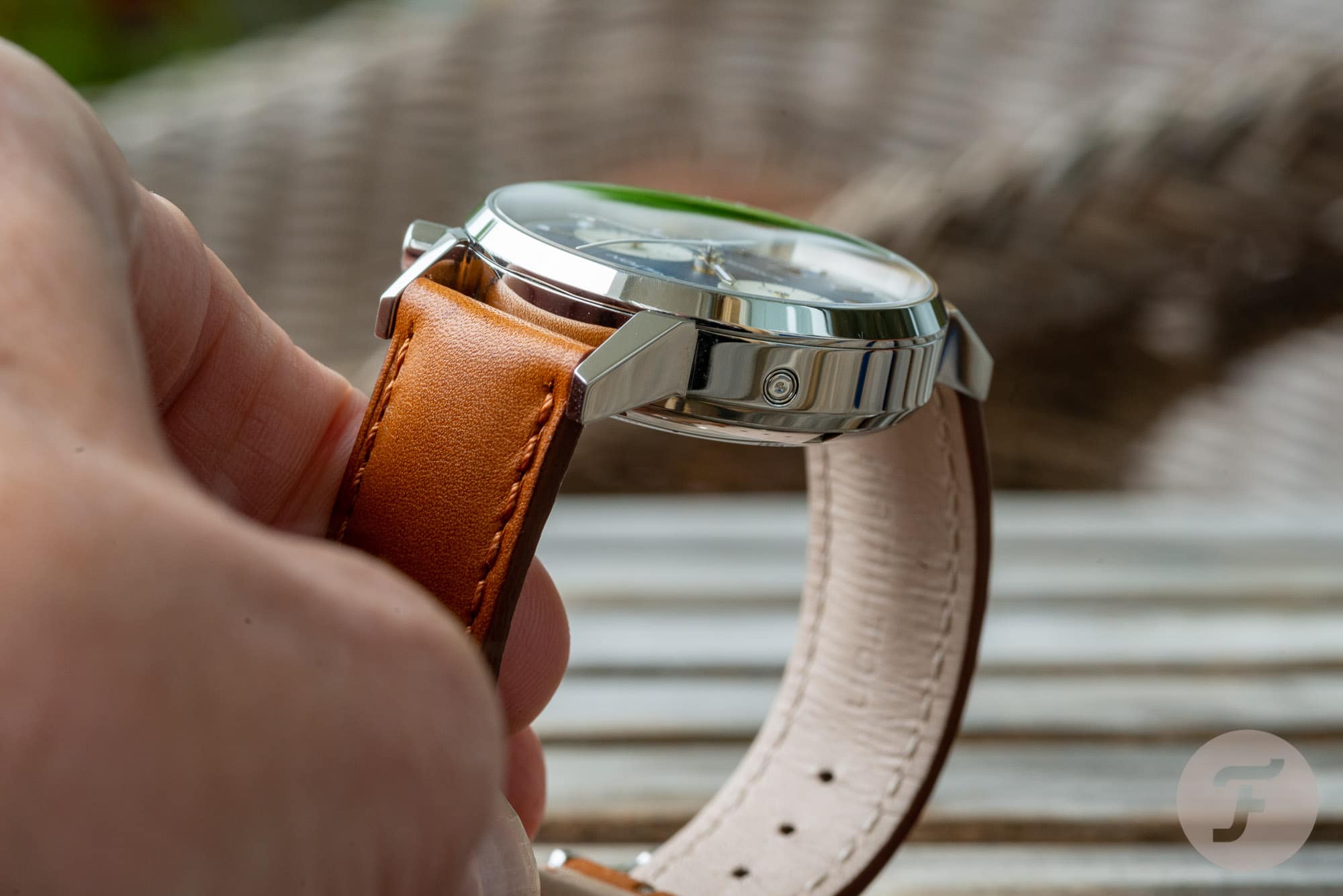 A few years ago I would have said that I prefer the date disc to be in the color of the dial..
A Rich Dial
Part of the fun for me in this watch is the rich 1960's dial. When you look at watches from that era, you will see how much effort brands made to design dials. Applied indices, with all sorts of angles, use of Onyx, and some times you see that they used a lot of dial motifs (Clous-de-Paris, stripes etc). The latter especially on dress watches, the vintage Longines Conquest models from that time come to mind. On sports watches like this Hamilton Intra-Matic Chrono in blue, the tachymeter is printed on the dial and in combination with the applied markers with two facets and a small lumed part give it that typical look from the 1960s. The two-tone (blue and off-white) reverse-Panda effect on the dial is also pretty cool. The date is located at 6 o'clock, just like the original caliber 11 version. A few years ago I would have said that I prefer the date disc to be in the color of the dial, and the printing in white, but today I am fine with a white date disc and black (or blue) printing. This contrast is much easier for my eyes (if you're reading this and in your 20s, trust me, it will get to you as well). The printing of 'Hamilton' and their typical H-logo is at 12 o'clock and the word 'Automatic' between the center pinion and the date aperture. I think I would have preferred the word 'Intra-Matic' over the word 'Automatic'. The hands give a good contrast to the dial (all hands do), so it is quite easy to read the time within a blink of the eye. The subdials at 9 and 3 o'clock are relatively large, as the original Chrono-Matic, and I love that. The blue version of this watch does appeal more to me than the black & white version that Hamilton released earlier.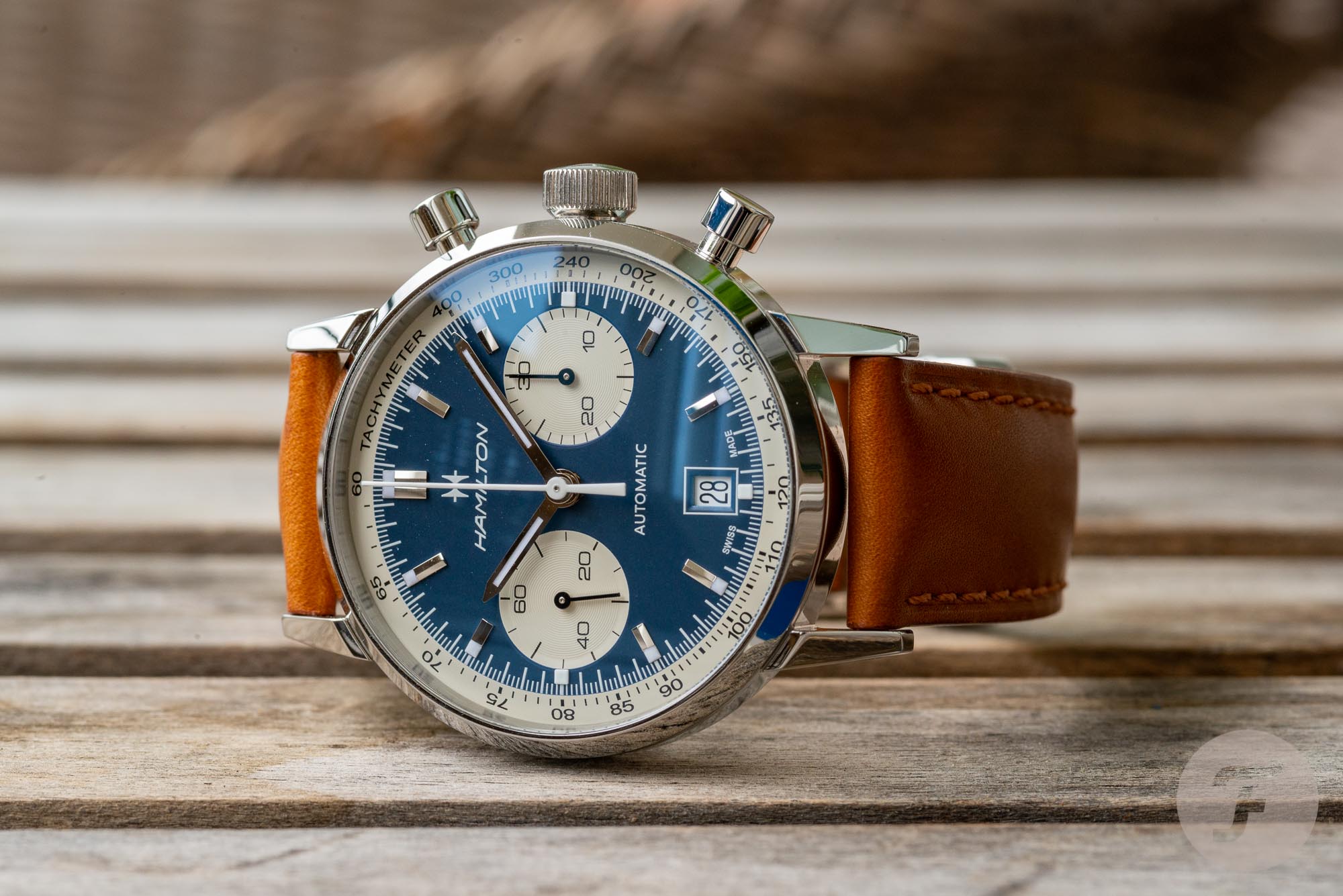 Strap
As you can see, this Hamilton Intra-Matic Chrono in blue comes with a brown calf strap. It gives a nice contrast with the dial and I prefer brown over black or blue in this case. However, finding a strap of your choice isn't difficult with the 20mm lug size, there are plenty of options out there. A grey suede racing strap also might be a nice touch. No folding buckle (luckily) but a pin buckle, also with a polished finish.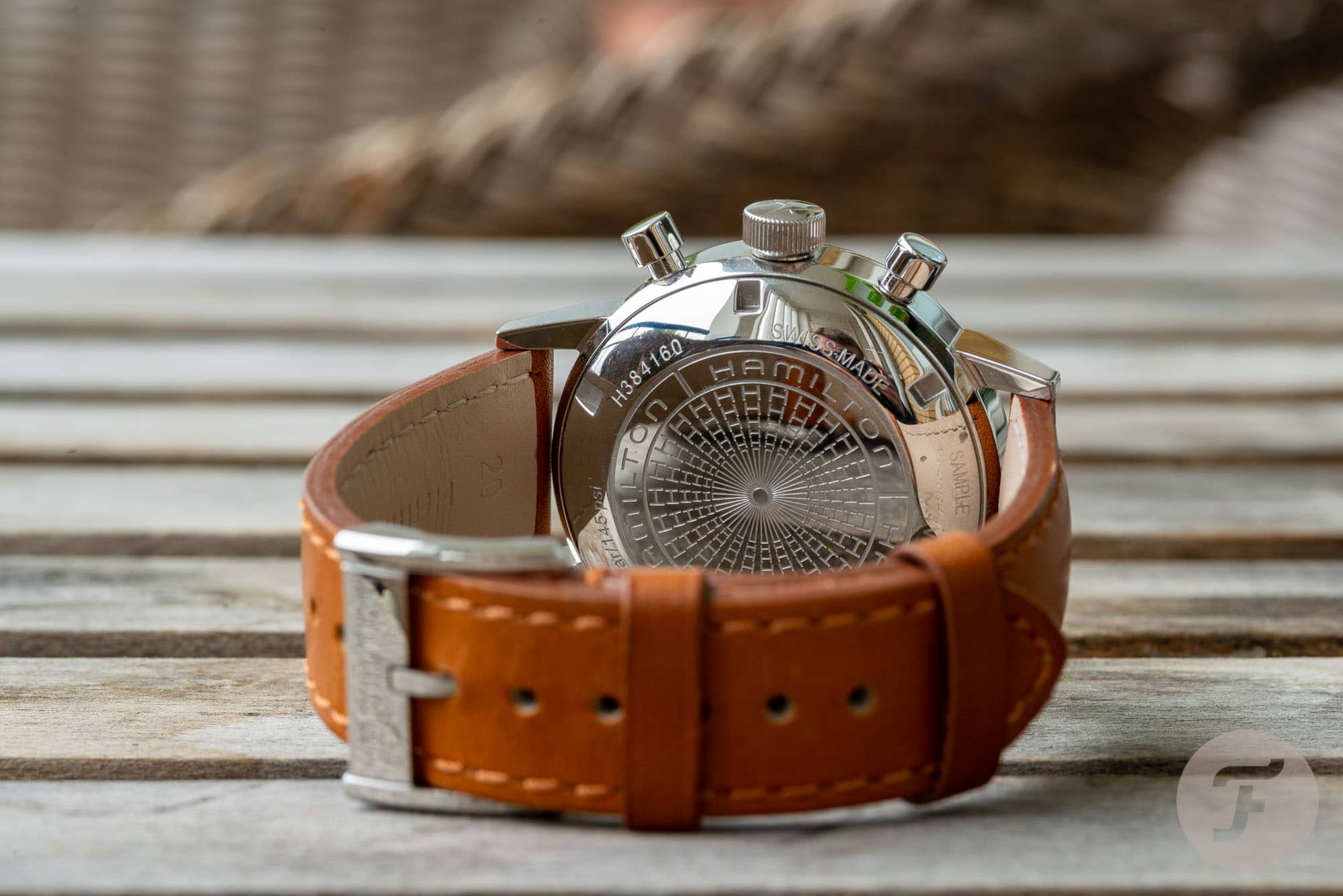 Price and Availability of the Hamilton Intra-Matic Chrono
With a 40mm diameter, Hamilton made an effort to be a bit closer to the original 37mm case than their initial release of the Intra-Matic Chrono in 42mm. The 40mm Hamilton Intra-Matic Chrono in blue is a regular production watch, so no limited edition 'struggle'. I already mentioned the retail price of €1995,- at the beginning of this article. That's a fair price in my opinion, for this vintage-inspired 40mm chronograph with ETA 7753 movement.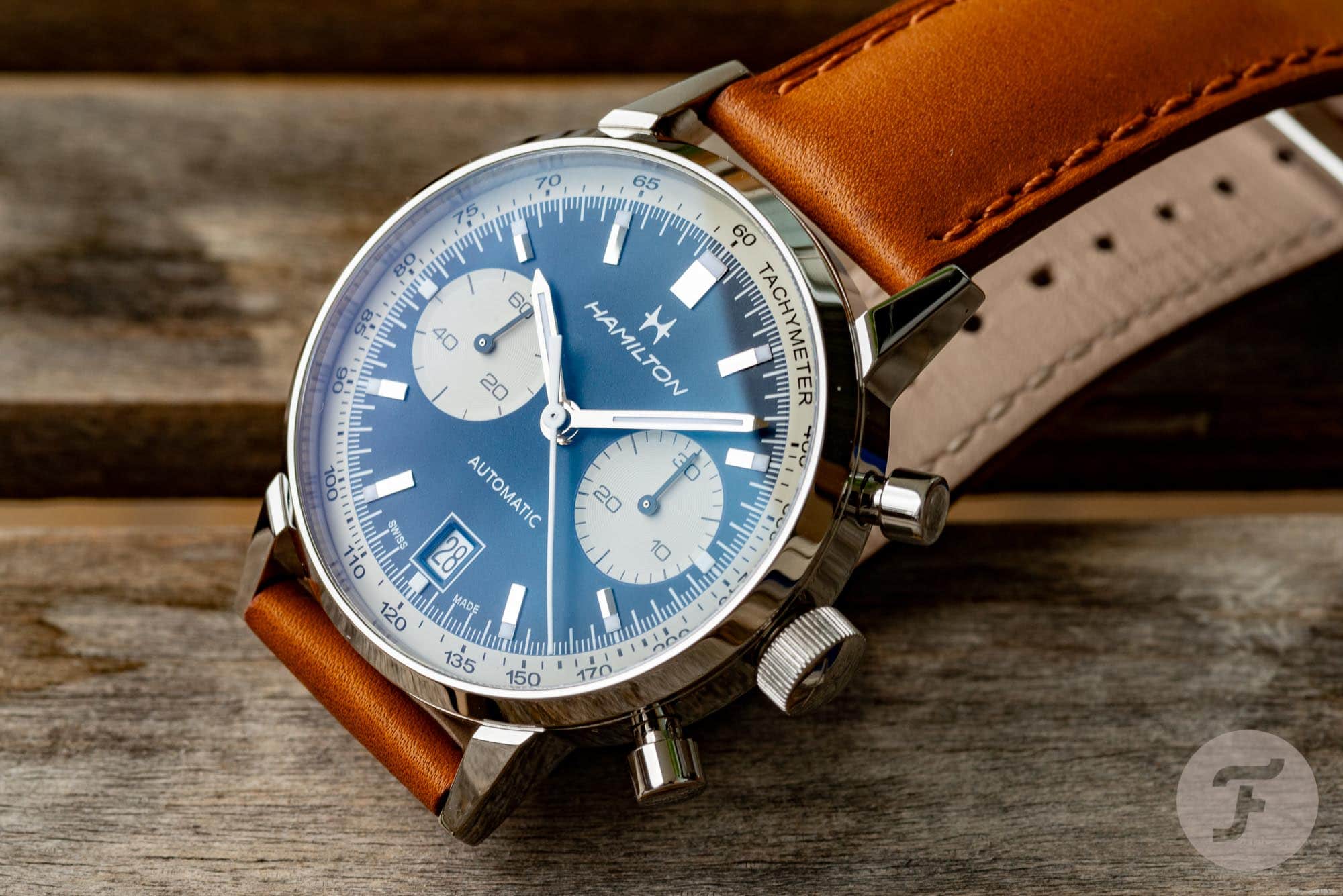 The watch is not perfect perhaps, as I like to see some more variation in the finishing and the watch is a bit thicker than I would like it to be. That said, the beautiful and rich dial, the movement and the overall look of the watch make those imperfections perfectly acceptable. Perhaps that's also where the price comes into place, if you want a thinner chronograph and a more complex finishing of the case (or whatever part), it will immediately reflect in the retail price. I am of the opinion that this Hamilton Intra-Matic Chrono in blue is one of their most attractive watches and will attract many people who just started collecting watches or simply want to have a nice and accessible (attractively priced) mechanical chronograph. Die-hard collectors might seek for the original Chrono-Matic, so be it, but Hamilton did a very nice job in respecting a lot of the design codes of that watch.
Additional information can be found on the official Hamilton website.
Watch specifications
Model
American Classic INTRA-MATIC Auto Chrono
Dial
Two-Tone: Blue with white subdials, applied indices, date aperture at 6 o'clock
Case Material
Stainless Steel
Case Dimensions
Diameter: 40mm, Thickness: 14.7mm, Lug-to-Lug: 49mm
Case Back
Stainless Steel screw-in, engraved.
Movement
Caliber H-31, base movement ETA7753, Power Reserve: 60 hours, Ticking Speed: 28800vph, Jewels: 27
Water Resistance
100 Meters / 10 Bar
Strap
Brown calf leather, pin buckle (Hamilton signed)
Functions
Time, Date, Chronograph, Tachymeter