Pontos S Diver PT6248
On March 10th of this year, we already introduced the Maurice Lacroix Pontos S Diver to you on Fratellowatches. However, all we had were the press photos and as you know, we'd like to take our own pictures of (new) watches. So during the Baselworld exhibition in April, we visited the nice people at Maurice Lacroix and had a look at their new collection.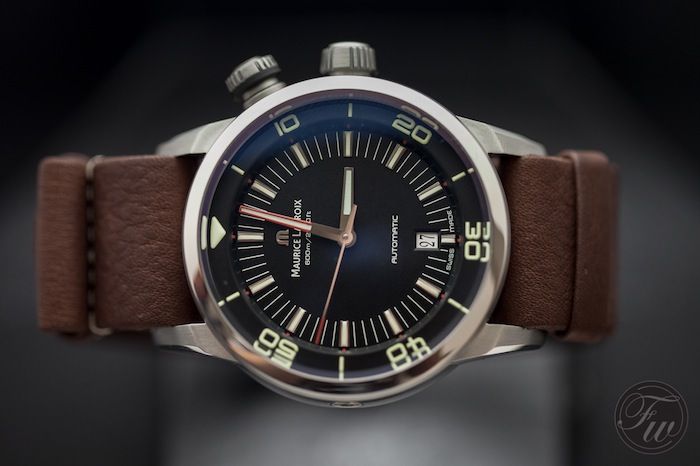 The Pontos S Diver is a new watch in the Pontos collection and we think they are going to hit jackpot with it. A very cool looking diver's watch, either with bracelet or leather NATO strap.
Diver's Watch – Diver's Features
In order to be a diver's watch, it definitely needs some necessary diver's watch features. This means more than just being water resistant! The Pontos S Diver features a diving bezel (minute scale), which is a necessity to see how much minutes you have left when being under water. This inner diving bezel is being operated with the crown located at 2 o'clock. Another feature that Maurice Lacroix embedded in this watch is an automatic helium escape valve. Something we've seen on other professional diving watches (Rolex Sea-Dweller and OMEGA Seamaster Professional / Planet Ocean) as well. However, we've been told that only professional divers who need to go through a decompression chamber before returning to the surface need this helium escape valve. To quote one of our readers (Tim Smith):
"…..The release valves really only service commercial divers doing saturation dives or operating out of diving bells who are pressurized using mixed gases to breathe in order to lessen decompression sickness. It would typically be some mix of helium with oxygen and possibly nitrogen. So the helium can infuse into the watch and then blow out the crystal when the diver is decompressed after the dive….."
In the end, the Pontos S Diver is water resistant to 60ATM or 600 meters. This and the mentioned features above make it a diving watch that's definitely suitable for professional use under water.
Vintage Design Elements
From the very first moment I'd seen this watch, I was intrigued by this new Maurice Lacroix timepiece. When AskMen asked me about my favourite Baselworld watches, this Pontos S Diver was included in my answer. You can read about it here.
Besides being a real diver's watch (there are more of those of course), the retro design is one of the things I like best about this watch. Mainly because of the sun brushed dial and the (yellowish) patina like printing on the dial.
Also, the 43mm stainless steel case has a nice combination of brushed and polished finishing, enabling it to play with the sun light.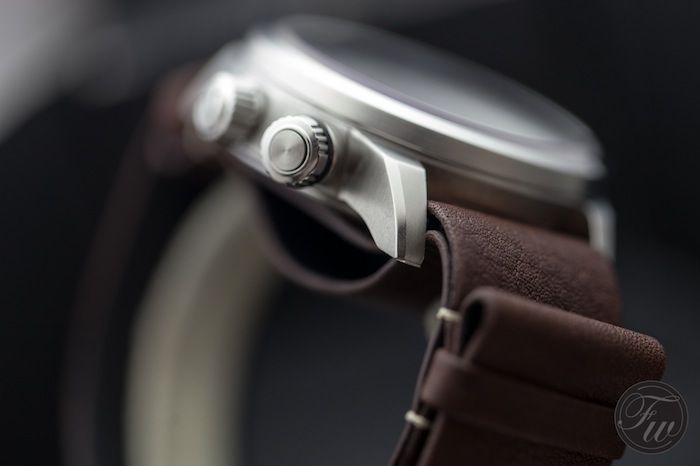 The leather NATO strap adds a bit more to the vintage appeal of the watch. A very soft and comfortable leather strap that fits like a pair of shoes that you've had for ages. Impressive!
Maurice Lacroix chose to make the dial a bit more funky with a red accent on the minute hand and a red tip on the second hand. Each hour indicator also has a red dot. Speaking of the dial, only the necessary stuff is being mentioned on their. Brand name, logo, water resistant level and the fact that it is an automatic. The dial aperture is located at 6 o'clock. Perhaps a black date disc would have been a perfect fit, but the contrast of the white disc and black numeral makes it perfectly readable. Ever tried to read white text of a black background on a website? Terrible (but it might look nice).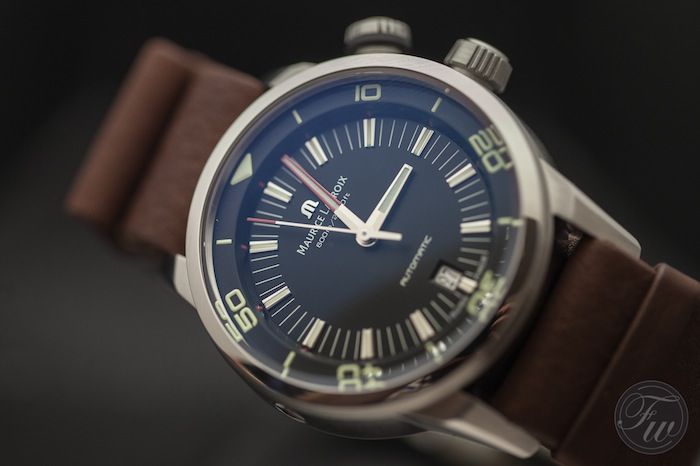 Pontos S Diver Bracelet
For those who don't like NATO straps, you can put a normal leather strap on this watch or go for the stainless steel bracelet. The Maurice Lacroix Pontos S Diver on the leather NATO strap goes by the reference number PT6248-SS001-330-002 and the Pontos S Diver on a metal bracelet has referenc3e number PT6248-SS002-330.
The steel bracelet has a double deployant clasp which is easy to operate and comfortable to wear. It is definitely a heavy-duty bracelet, suitable for wear during  sports activities but stylish enough to wear it under your cuffs during a formal occasion.
As you can see on the second picture, the links have a nice brushed finish on the surfaces.
Automatic Movement
The Pontos S Diver uses the Maurice Lacroix ML115 caliber movement, which is based on the Sellita SW200 movement. The Sellita movement is on his turn based on the famous ETA2824-2 movement which has been in the market since a long time already. Since ETA is not providing movements (or parts) outside the Swatch Group without all kinds of terms & conditions, a large number of brands started using the Sellita movements. Sellita is a movement manufacturing company that did some work for ETA in the past, but decided to start their own production using their own company name.
Price and Availability
An important aspect of a luxury timepiece is its price. You probably noticed the (sometimes) steep price increases of brands over the last few years. Annual price increases of 10% seem to be taken for granted these days. Having kept the prices of their Pontos S Chronograph watches in my head when asking for it (just below 3000 Euro towards 3500 Euro for some 'special' finished pieces), I was happily surprised to hear that this Pontos S Diver will retail for 2460 Euro.
The Pontos S Diver is a very serious competitor on the market of mechanical diving watches in the luxury segment. I've said it before and will do it again – It is getting more and more difficult to buy watches in the < 3000 Euro price range with an interesting design and good quality. The big & obvious brands who used to be in this price category about 10 years ago, moved up to double that amount while there is still a lot of demand for watches in this price range. It would be very easy for Maurice Lacroix to put a higher price tag on this one, taking some of their competition into account but they didn't. The Pontos S Diver watch should be on your short list when searching for a < 3500 Euro watch with these specifications and original design.
More information can be found on their official product page (click here) or the Maurice Lacroix Facebook page.