Siduna as a watch brand currently comprises of just one single watch model in two movement variations. That's not much of a brand one would say. However, Siduna has plans for more and, although I had never heard of it before, it isn't a new watch brand at all.
What was before the Siduna M3440
In the late 1800s already, the Siduna brand was founded in Bienne, Switzerland, and became known as a producer of aggressively priced pocket watches. Later, in 1929 to be precise, the company was transferred to Denmark and became a supplier of mainly 18k gold chronographs. Like many other watch brands, Siduna didn't survive the seventies quartz-crisis. Then, in the second half of 2000, a watchmaker from Stockholm bought the trademark and used it nationally till his retirement in 2016. He then sold it in 2017 to the current owner Francis Jacquerye, who decided to revive the brand together with Swedish, Bordensber and Wostep certified, watchmaker Peter Wadbro.
Francis Jacquerye has already been in the watch industry for over 15 years. After studying Industrial Design, he worked in Italy, where he trained as a goldsmith. He then got a job with Longines in Switzerland and was promoted to design manager in 2011. By 2016 he moved to Sweden and, together with his wife Anna, founded Woodshores AB. A company offering, strategy, design, and high-quality manufacturing of luxury timepieces. Googling Francis Jacquerye will teach you that he is one of Quora's top contributor's in the field of analysis, strategy & cost optimization of luxury watches.
…is this watch just a marketing trick?
Frankly, learning of Francis' high interest in analyzing strategy and cost optimization made me look even closer at the Siduna M3440. Is this watch just a marketing trick? My conclusion right away is: if it is I couldn't find it.
What was the inspiration for the Siduna M3440?
That doesn't mean I couldn't find marketing driven choices, of course, but nothing wrong with that. For instance, I hardly could find a connection between Siduna and the iconic Viggen-nicked Lemania military chronograph it's derived from. Except probably that the brand Siduna was known to produce chronographs in the past as well. And that the brand currently resides in Sweden while the Lemania Viggen was used by the Swedish Air Force.
As such, the Lemania chronograph wasn't exclusive to the Lemania brand at that time. Designed by Ervin Piquerez in 1968, the same case was used by brands like Breguet, Bucherer, Heuer, Sinn, and more. Francis used his experience from Longines experiments at reproducing historic watches with modern materials to design the components and pick adequate suppliers. Up to 75% from the Siduna M3440's parts come from continental Europe. In 2018 Siduna assembled the pre-series of the Siduna M3440 watches, from which we have one for review now.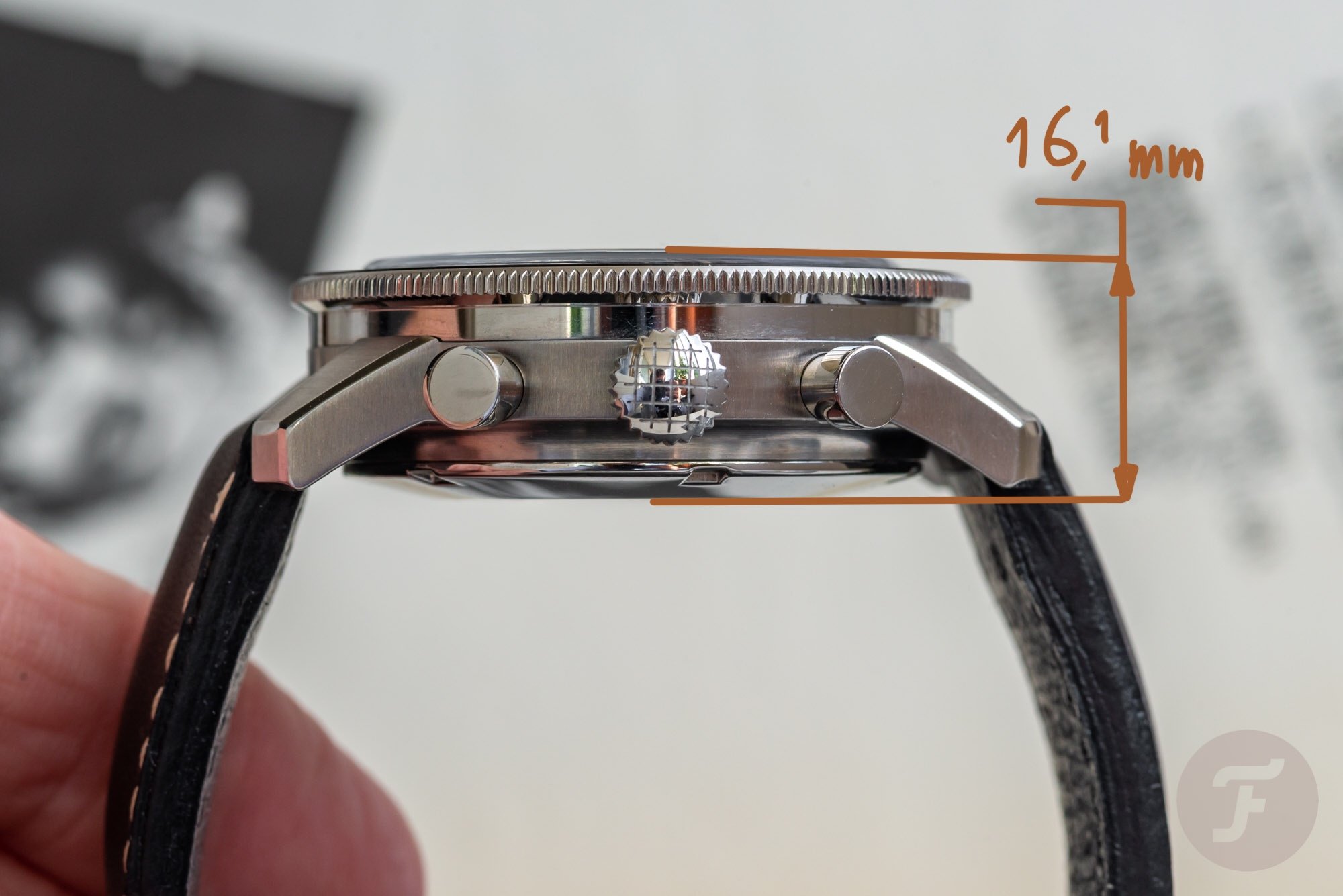 First impressions
It's immediately clear that we're looking at a technically high-quality product here. Beautiful matt black dial with recessed subsidiary dials, high contrast numerals, indexes, and hands. Pretty heavy (106 gr), with an extreme nicely finished case, and fitted on a thick full grain leather strap. The latter in Havanna-brown is precisely my preferred choice. The watch' specifications are all on par as well. 10 bar pressure tested 316L case, slightly domed sapphire crystal, and sporting a reliable caliber derived from the ever so good Valjoux 7750. In this case, equipped with a Flyback construction.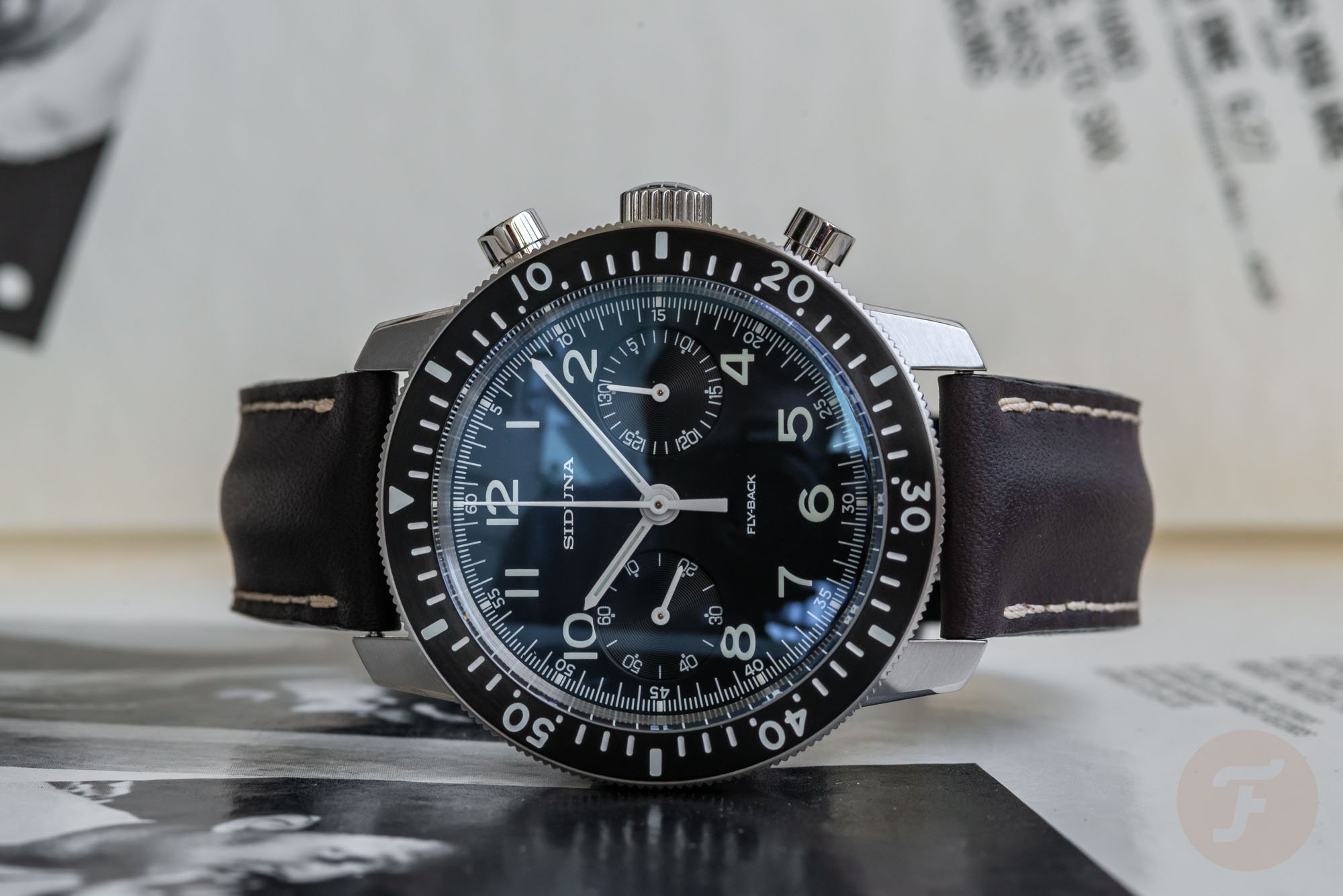 …certification is taken care of
The certification is taken care of as well. Anti-Magnetic according to ISO 764, Shock-Resistant to ISO 1413, and Water-Resistant to ISO 22810. What I miss here is meeting to any flight instrument rules, like DIN 8330. I'll briefly get to this later.
A uni-directional rotating bezel?
The rotating bezel is something immediately attracting attention as well. While diameters of watch casings and bezels are often more or less equal, the bezel of the Siduna M3440 stands out. With a measuring gauge in hand, the diameter of the casing is 39,6 mm while the bezel is 42 mm.
And when attracted to it, the next thing, of course, is rotating it. Although feeling very solid, I was surprised to learn that it's uni-directional turning (normally this will be the case by diver's watches). In my experience and to my knowledge pilot's chronographs typically use bi-directional bezels. The Lemania Viggen, where the Siduna M3440 has derived from, had a bi-directional rotating bezel as well. It might even be that DIN 8330 for Flight Instruments requires it, and this is one of the reasons the Siduna doesn't comply.
Not complying to DIN 8330 isn't something to write home about by the way. Currently, only two or three brands supply pilot's watches which meet this standard.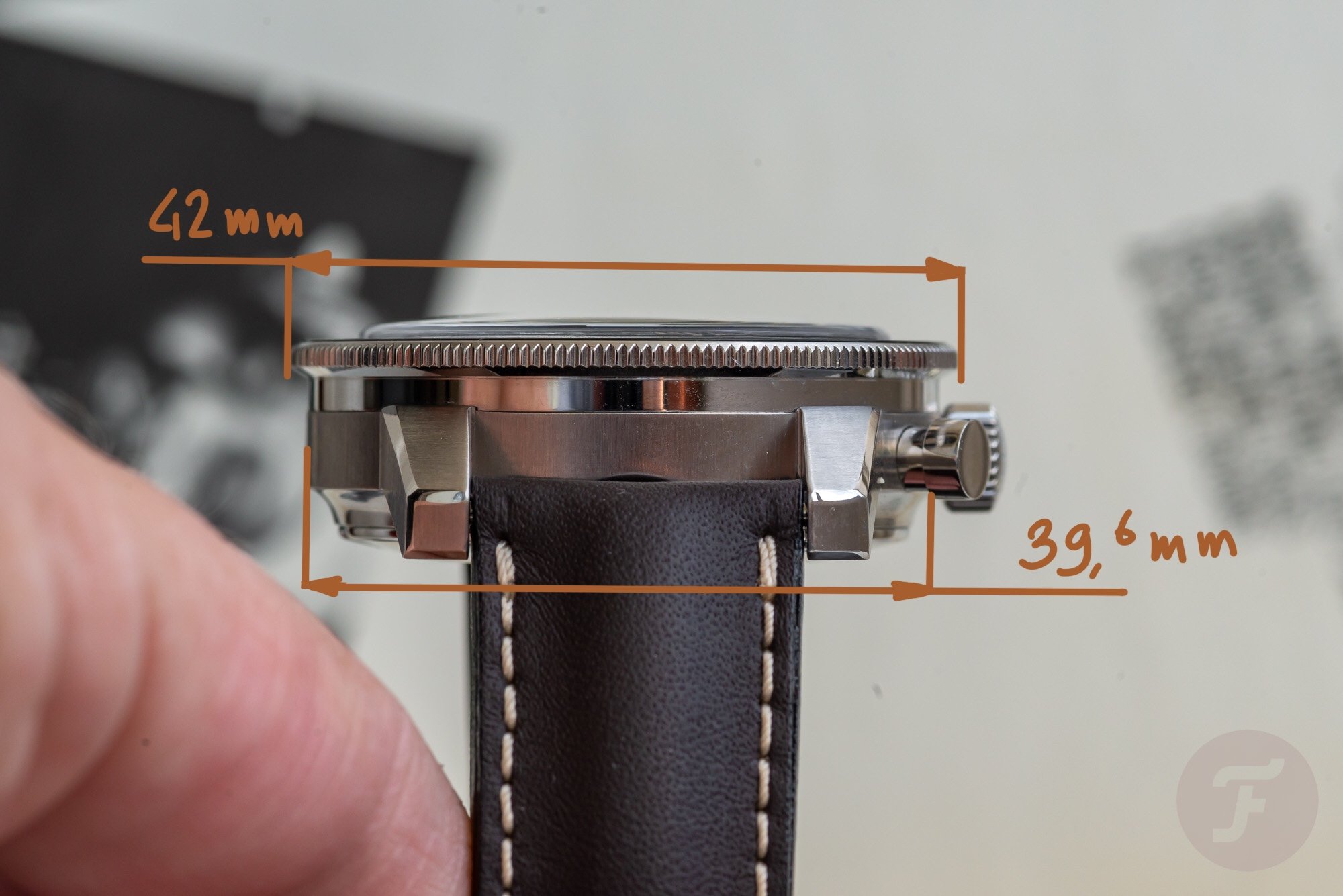 An impressive height
Because the diameter of the Siduna M3440 is quite moderate, the height shows off quite impressively. No less than 16,1 mm. Together with the shape and overhang of the bezel, I have to say that this makes the watch rather bulky. Although the casing design was derived from the one made by Ervin Piquerez in 1968, there are some remarkable differences. Because of the use of an automatic chronograph movement, it had to grow in height. Among other places, this is obtained by increasing the height of the lower part of the bezel quite significantly. By this, the proportion ratio of the casing got a bit destroyed, in my opinion.
A beautiful but unfortunately uncomfortable strap
I can imagine that you don't want to fit a watch of this height with a thin strap. That would accentuate the height of the casing even more and wouldn't look beautiful as well. So Siduna chose for a high-quality substantial German leather strap, as said in Havanna-brown on the watch we got for review.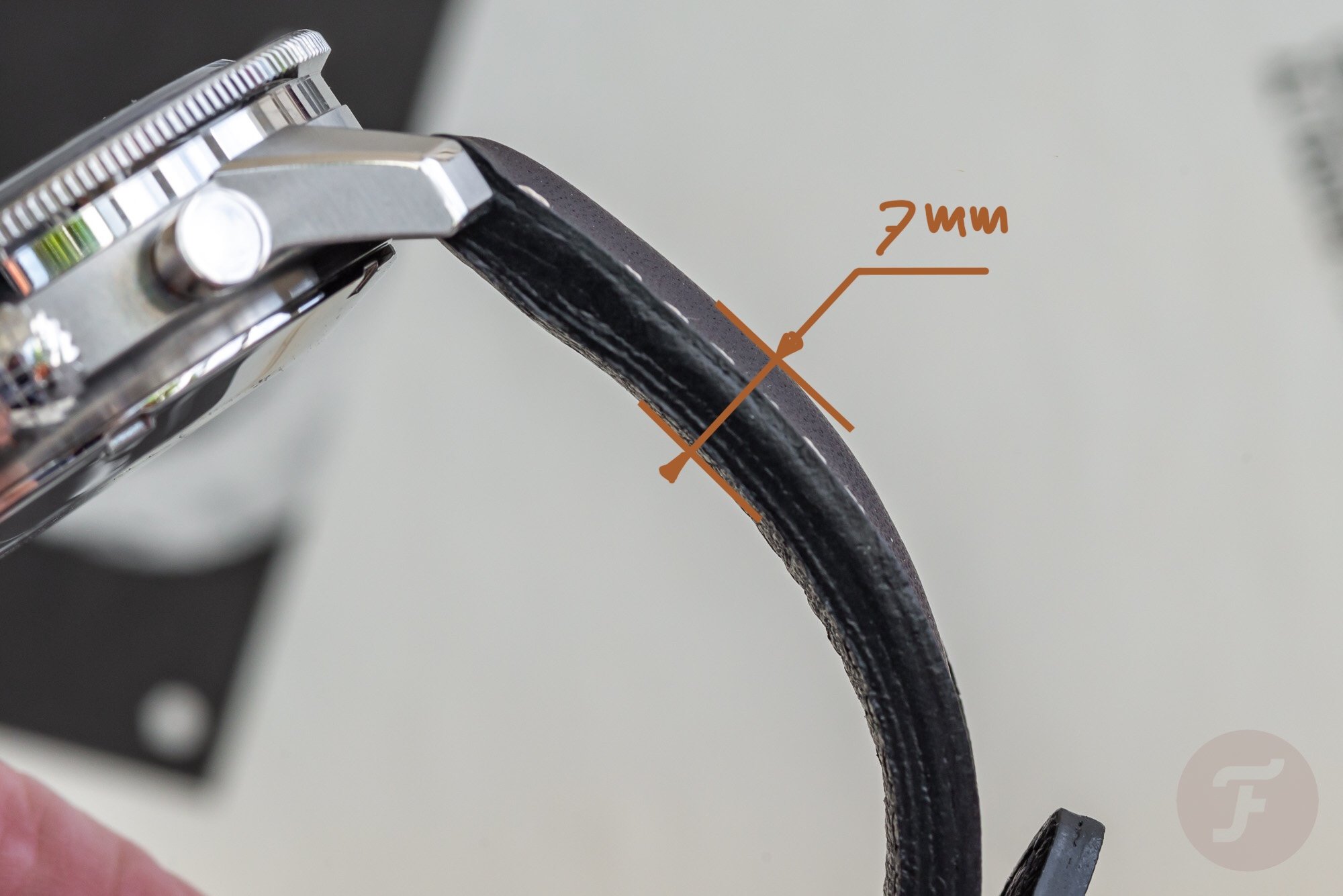 As it's a beautiful strap and looks good on the watch, I tried to wear it for some days. With its thickness of no less than 7 mm, it didn't break in though and remained too stiff for comfort. The watch was sitting high above my wrist and turned to either side of my wrist. I had to find another solution to wear it, as this didn't do it justice.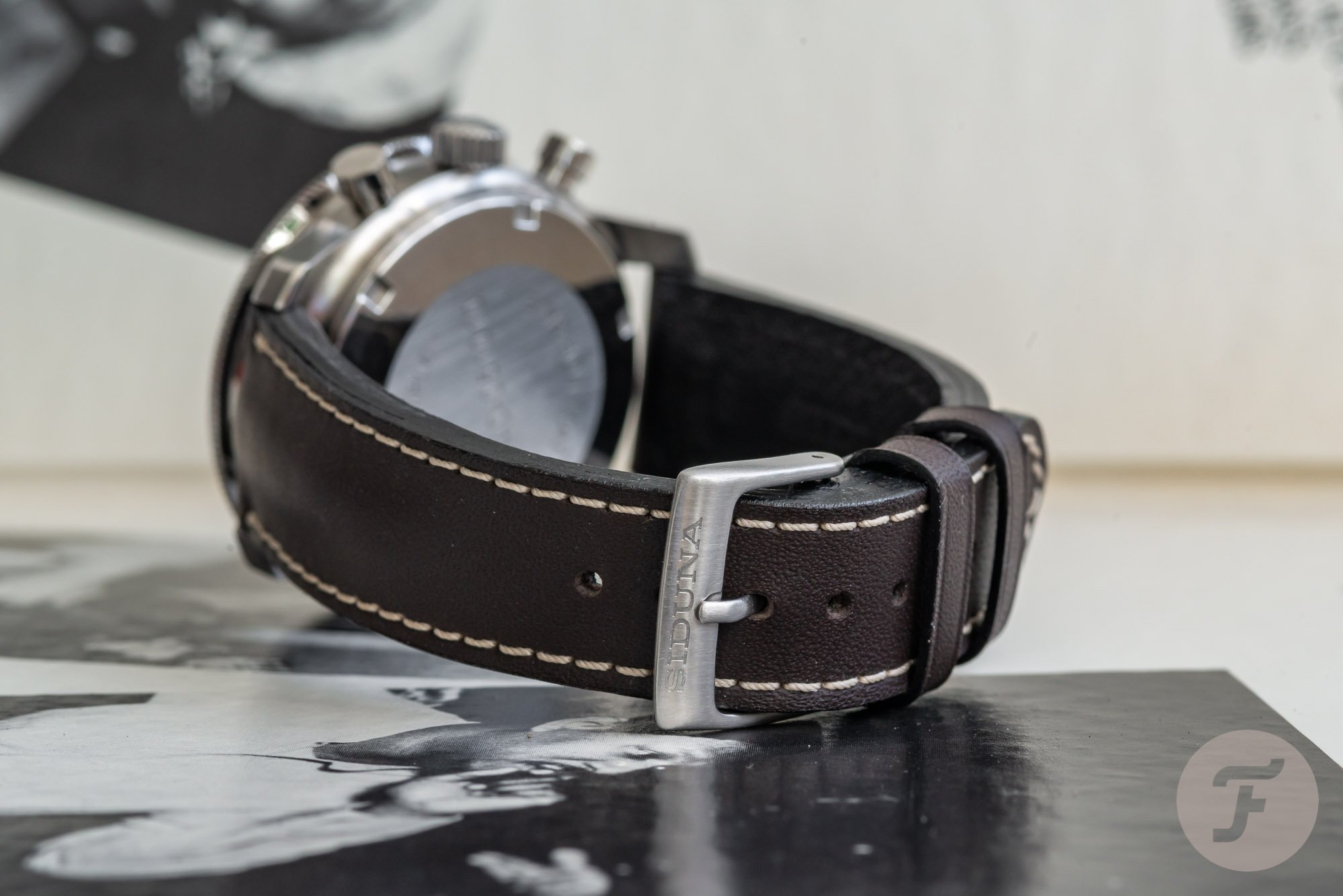 Dodane, Sinn and Zenith. Comparing the M3440
As mentioned, many watch brands used to supply this type of pilot's chronograph. And many still do. It's obvious that the Siduna M3440 is not an exclusive appearance. Equal looking watches which come to my mind are, for instance, the Dodane Type 23, the Sinn 103.Ti.IFR and the Zenith Tipo CP-2. Where the Zenith – mainly because of its movement I guess – with a price of € 7.900,= is in a different league, the Dodane and Sinn more or less aren't. Both, however, have a higher list price than the Siduna M3440. Comparing the no-Flyback versions (as the Sinn isn't available in Flyback) the price range looks like this: Dodane Type 23 € 2.900,= – Sinn Sinn 103.Ti.IFR € 2.440,= – Siduna M3440 € 1.850,=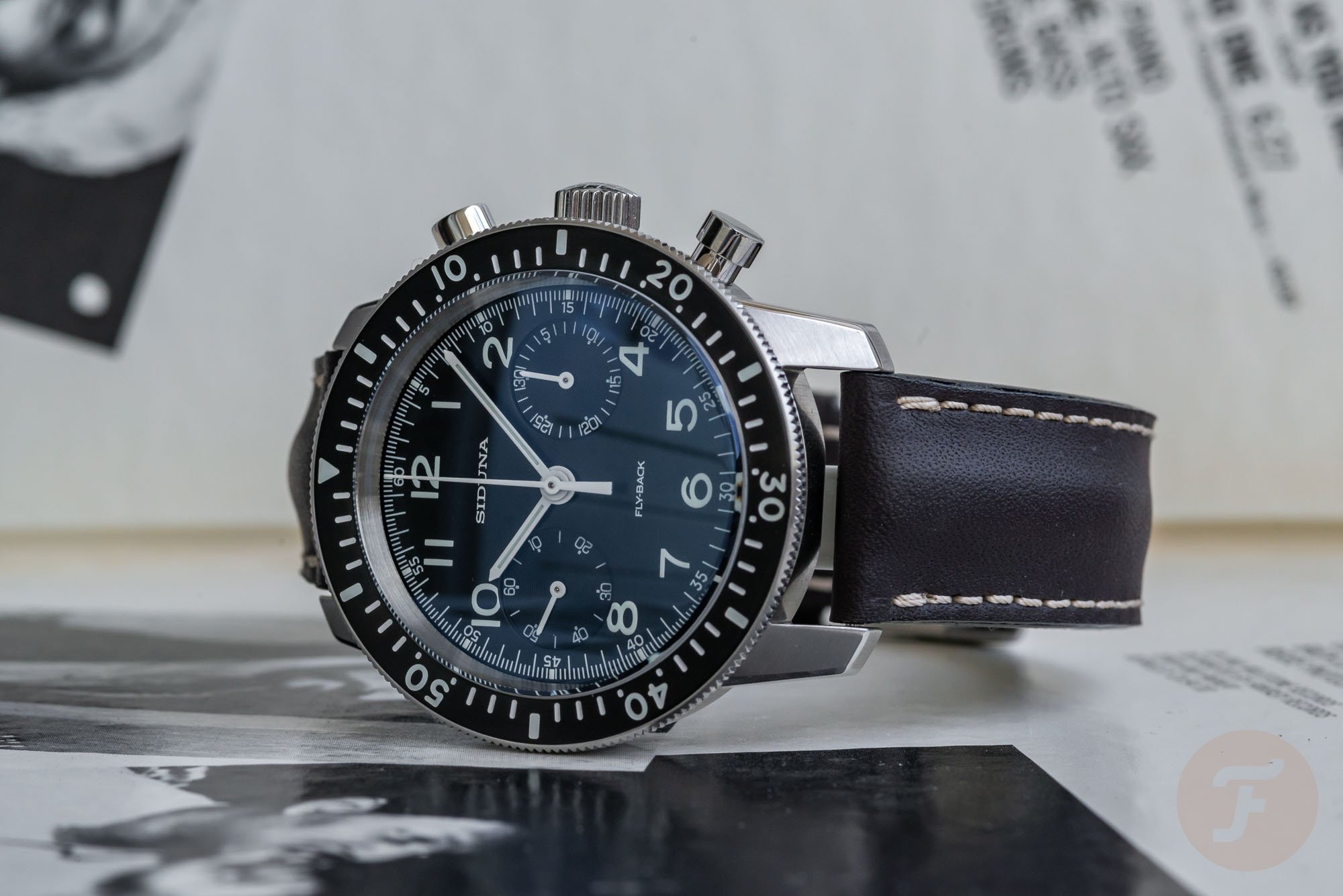 Conclusion and specifications
The Siduna M3440 is a beautiful and high-quality chronograph. Although it can seem to be a bit bulky, it looks good from every angle. And it has its technical specifications as well as its construction right. Wearing the watch on my 18 cm wrist, unfortunately, was a somewhat different experience. The strap was too thick and too stiff to get around my wrist comfortably. A different, softer and thinner, strap did the trick. However, it must be said; it didn't look as good as the original one.
…it isn't a cheap start-up micro-brand watch
And then there's this. The Siduna M3440 isn't a sub-€ 500,= cheap start-up micro-brand watch. The price of the watch we're reviewing here is € 2.350,=. That's money which buys you a watch from long-established brands as well. In this price league, one buys a watch which hopefully can be worn for decades. What happens if I need a new crown, pushers, hands, or even a dial, in, let's say, 25 years from now? Will Siduna still be able to supply that? Buying a product from a start-up company in this price league, I would love to get a bit more confidence, which should ensure the availability of spare parts for a longer period of time.
Please note
We have to understand that the watch we're reviewing in this article is a 'press sample'. I'm not sure if this means that extra care has been taken to make it perfect 😉 However, I guess this means that it's still a prototype and it might be possible that some details will change for the better. From my point of view,  a bi-directional bezel and a more comfortable strap would be welcome alterations.
Availability
Siduna M3440 chronographs will be numbered from 1 to 100, and will only be available directly from their website. Serial numbers will be allocated on a "first come, first served" basis. Numbers 001 to 010, 019, 080, 088 and 099, will be put on auction. Further technical information and specifications can be found in the table below the picture gallery.
Watch specifications
Model
M3440 Professional Flyback Chronograph
(M3440 Professional Compax Chronograph)
Dial
Matt black with luminous hands, numerals, and markers
Case Material
316L stainless steel
Case Dimensions
Case diameter 39,6 mm, bezel diameter 42 mm, case thickness 16,1 mm
Crystal
Slightly domed sapphire
Case Back
Solid stainless steel, engraved with reference and serial number
Movement
Siduna 13-Phi, based on Top-finished Valjoux 7750 with Flyback module
(Siduna 13-Upsilon, based on Top-finished Valjoux 7750)
Water Resistance
100 meters or 10 bar
Strap
Full grain leather, black, Havanna or rouille. 20 mm wide x 7,5 mm thick
Functions
Hours, minutes, seconds. Flyback (or non-flyback) chronograph seconds, minutes
Uni-directional bezel
Price
€ 2.350,= (€ 1.850,=) including VAT
Special Note(s)
First batch of 100 numbered pieces