In 2014, with the launch of its first Octo Finissimo (hand-wound) models, Bulgari rewrote the rules of skinny. Until then, an ultra-thin watch was defined by discreet styling, a round case, precious metal – in short, the ultimate dress watch. Then along came Octo Finissimo, with its shape-shifting trick of looking both supermodel-skinny and swaggeringly muscular. Shamelessly modern! A sports-deluxe ultra-thin watch! Made of titanium!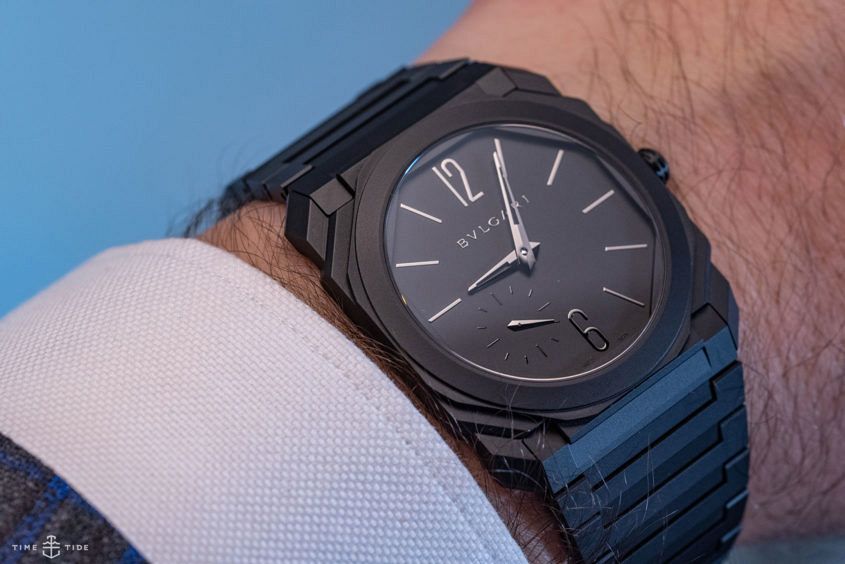 Jump to the 2017 version – the world's thinnest automatic watch (until Piaget snatched the record back a year later). This time the entire thing was done in sandblasted titanium – case, dial, bracelet and clasp – the chromatic unity bringing even greater strength to the design. Then, last year, rhodium-plated and sandblasted steel, and sandblasted pink gold – the former with an almost icy-white tone, the latter smashing any prejudice we may have felt towards all-gold watches. Flashy? No sir.
And this year, ceramic. Sandblasted. Deep, matt black. The Stealth Bomber Octo Finissimo.
Black shrinks any object visually and the deep matt black of the Octo Finissimo's sandblasted surface shrinks it even more. Except that it doesn't. That shape-shifting trick again. The strong angles of its stepped bezel and lugs radiate confidence and swagger. And the unadulterated blackness allows it to fly under the radar. Covert luxury in the extreme.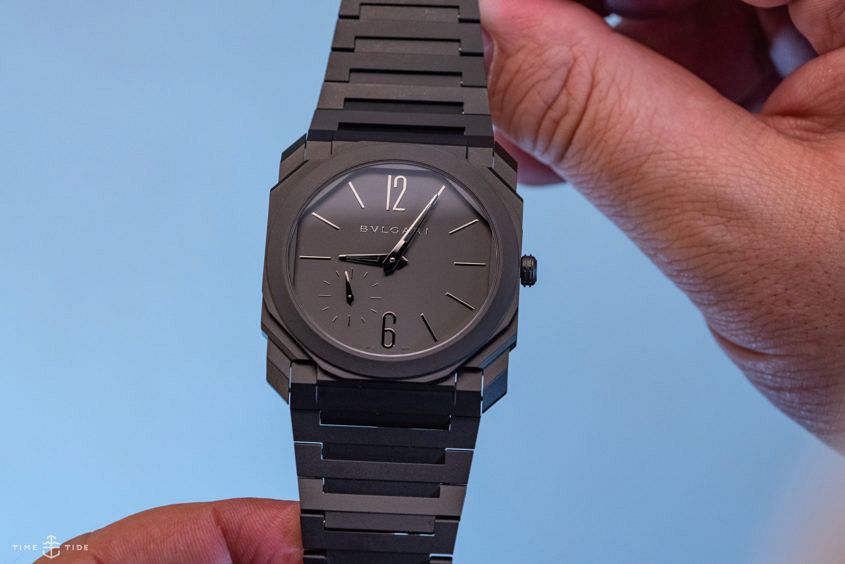 If you were wondering about the difference between making a watch black and making a black watch, this is the best possible demo. Bulgari didn't simply black-coat a metal watch, its design team began with the material, pushing it as far as they could. So, not only do we get a ceramic case, dial, crown and bracelet, even the folding clasp is ceramic. And the caseback screws. This is a purist's approach to materials. And visually, it's a triumph: nothing interrupts the darkness. And with no colour to distract the eye, all of the emphasis is on the form. On those angles.
There's another thing: with a coating, no matter how good it is (and these days DLC can be very good indeed) there's always that back-of-the-mind niggle that maybe – just maybe – it might eventually wear off. Or scratch. Ceramic won't; the blackness of this Octo Finissimo IS the material, all the way through.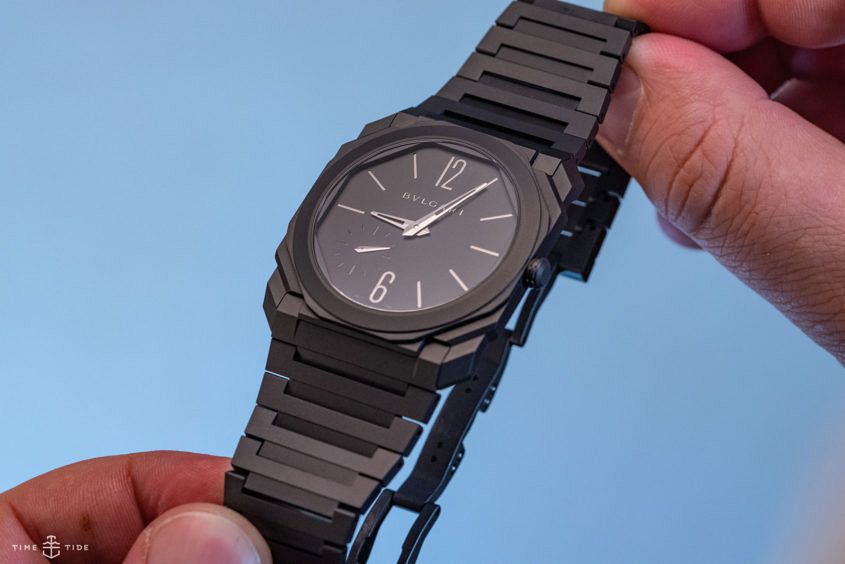 It's as tough as boots and light as a feather. On the wrist it feels as uncannily fluid and almost-not-there as its titanium predecessor. Due to ceramic's properties, Bulgari couldn't make the bracelet quite as thin as its metal predecessors but it's impossible to feel the difference – and almost impossible to see with the naked eye. We're talking about a fraction of a millimetre difference, by the way – but in the world of ultra-thin watches, microns matter. That's why, as on all Octo Finissimo models, the indices are ultra-fine three-dimensional black chrome stickers. The tiny posts used to attach normal applied indices would have added thickness. On this black ceramic model, the shine of the black chrome provides just enough contrast to be easily legible against the matt dial.
Although the movement is the same as in all previous Octo Finissimo Automatics, it's worth another quick rundown because the construction is so remarkable. It is 2.23mm thick (or should I say thin?). Take an Aussie dollar coin and shave almost a third off its thickness. That's how thin. To give the micro-rotor enough weight and therefore produce the force needed to wind the mainspring, they made it in platinum. To ensure shock-resistance, they had to develop the thinnest anti-shock (Incabloc/Kif) system ever made. To provide a power reserve of 60 hours, they designed an extra-large (and extra-thin) barrel. Then they decorated the whole thing with perlage and chamfering and extra-narrow Geneva stripes that emphasise the sleekness of it all.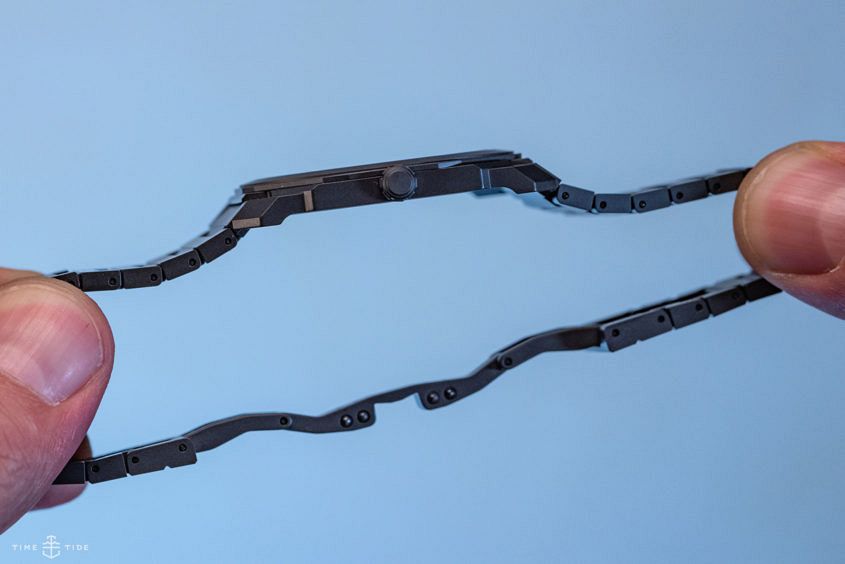 Is there a downside? Well, perhaps this black ceramic version has made it even harder to choose just one Octo Finissimo Automatic. Would it be ridiculous to get one in every colour?
Bulgari Octo Finissimo Automatic in ceramic Australian pricing and availability
Bulgari Octo Finissimo Automatic in ceramic, $22,200, available in Australian boutiques from June 1st.
Made in partnership with Bulgari. However, the opinions expressed in this article are our own in accordance with our Editorial Policy.