Exactly 10 years ago, in 2008, Glashütte Original introduced their PanoInverse XL watches. As you probably know, Glashütte Original is located in the watchmaking capital of Germany with the same name; Glashütte. This village, near Dresden, hosts a number of watch brands, but only a few can measure themselves with the Haute Horlogerie that Glashütte Original manufactures. In 2008, the PanoInverse XL was introduced by them, to show their skills when it comes to this Haute Horlogerie, and were available in white and rose gold. Now, 10 years later, the PanoInverse is still in the collection of Glashütte Original. Not completely identical, but with some small changes. We were curious to see how this watch holds up after 10 years, and if we can already speak about a Glashütte Original classic.
Above, the two original PanoInverse XL models that were introduced in 2008.
Glashütte Original PanoInverse
In rose gold and white gold, to fulfil the demand by customers that wanted to enjoy the aesthetics of their movement. A movement that, since 2002, uses a duplex swan-neck fine adjustment. The designers and movement constructors at Glashütte Original came up with the hand-wound caliber 66 movement at the time, showing the balance bridge on the dial side. The engineers from the small German watchmaking village had to make quite some adjustments to come up with a visually pleasing solution, that not only showed the movement but would still also be a perfectly readable watch. So in 2008, the PanoInverse XL was born. Mind the XL, as other watches were still much smaller at the time with 39.4mm, Glashütte Original felt the need to indicate they're talking huge here. The PanoInverse XL had a diameter of 42mm and still does today, only they decided to drop the XL because many of the other Pano watches are now sized 40mm (since 2012) and 42mm isn't considered to be very large anymore today. Over the years Glashütte Original also introduced other Pano models with XL designator, as those were also 42mm but these models have been phased out meanwhile. So exit XL, but what stayed was the PanoInverse and PanoMaticInverse.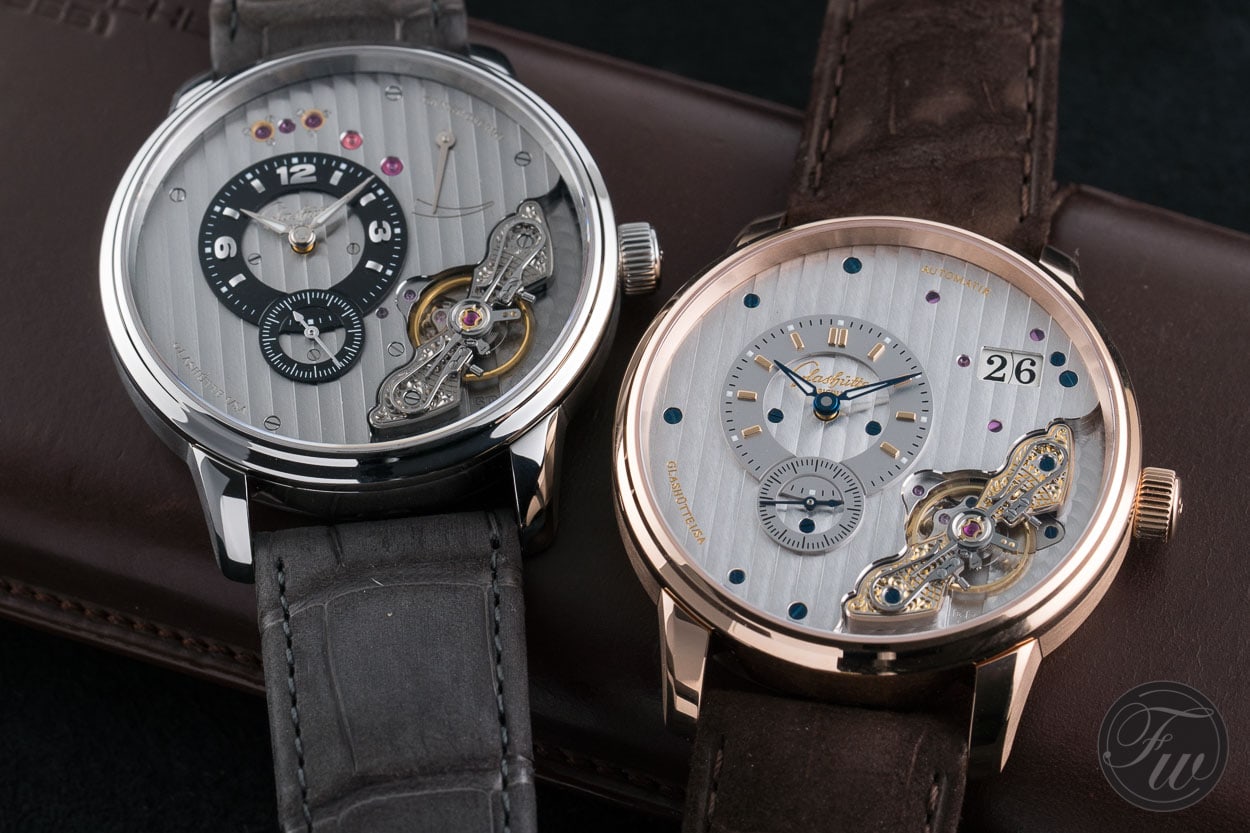 Caliber 91-02 and 66-06
In 2014, Glashütte Original felt it was time to add a new version of the PanoInverse model. One with an automatic movement, caliber 91-02. This is the PanoMaticInverse, where the 'Matic' of course refers to the self-winding movement that is being used. Today, we find both models in the collection, the PanoInverse and PanoMaticInverse. The PanoInverse uses hand-wound caliber 66-06 and the PanoMaticInverse the aforementioned caliber 91-02. What changed is that the PanoInverse became available in steel only, and the PanoMaticInverse in steel and in 18-carat red gold. As pictured above.
Below, photos that Berti took of the caliber 66-06 hand-wound movement and the caliber 91-02 self-winding movement.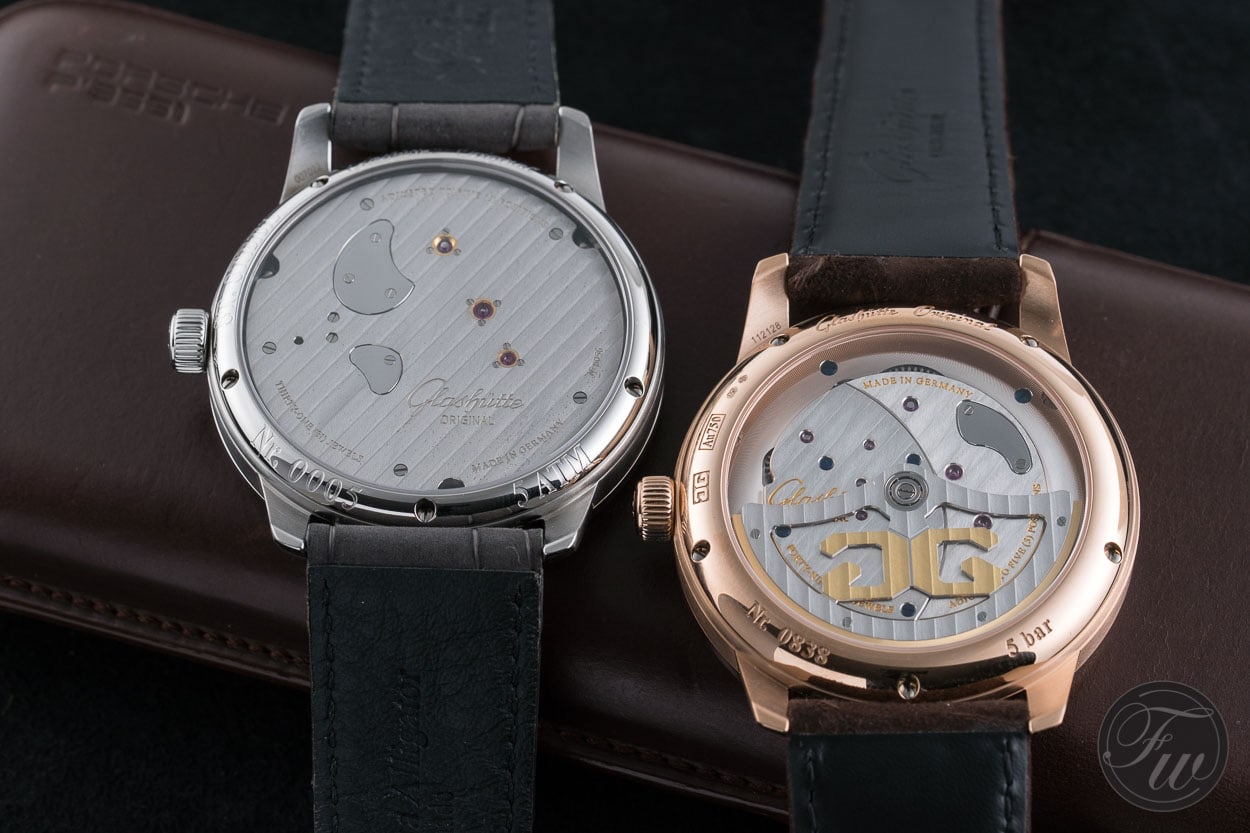 Hand-Wound
Glashütte Original sent us two watches, the PanoInverse with hand-wound movement and the PanoMaticInverse in red gold, with self-winding movement. When we visited their manufacture in Glashütte some time ago, we have been told that their high-end watches all have the hand-engraved balance cocks. This is also the case with the PanoInverse and PanoMaticInverse. The hand-wound caliber 66-06 is an iteration of the caliber 66 that was used in 2008. It has a diameter of 38.3mm and a thickness of 5.95mm. Glashütte Original ensure that the owner of this watch will have a good time observing it, as the finishing is beautiful and partly done by hand. The front side shows the 3/4-plate that is so distinctive for Glashütte watchmaking. You'll find bevelled edges, Glashütte striping, perlage and chatons have been used for the rubies.
Self-Winding
Caliber 91-02 is the automatic movement for the PanMaticInverse, and an alternative for those who don't like hand-wound movements or want something in gold. The gold PanoInverse (XL) has been discontinued, so it is only available with this automatic caliber 91-02 movement. The level of finishing and the type of finishes are the same for hand-wound caliber 66-06, added with a beautiful rotor that has a 21-carat gold oscillating weight (rotor mass).
A Classic Or Outmoded?
Now, most of the watches with a skeletonized dial or no dial at all, are very classical. A number of brands have (re)introduced watches with dials that have a large aperture that shows the beating heart of the watch, which can be very attractive for some people I guess. Then, there are watches that have a skeletonized movement (and no dial). To be honest, I don't see many of them being a watch for someone who loves a modern mechanical watch, most of them are small, thin and look a bit fragile. It is a matter of preference for a certain style, but the Glashütte Original PanoInverse in steel and the PaniMaticInverse in red gold are contemporary watches and will suit the young enthusiastic watch guy as much as they might do someone who has been collecting for many decades.
Compared to the 2008 PanoInverse models (pictured at the beginning of this article), you will find that today's models are bit more toned down, have a smaller bezel and now also available in steel. Yet, the watch is unmistakably a PanoInverse (42mm). This watch definitely belongs to the core models of Glashütte Original and is here to stay. I've been told that the PanoInverse models, especially in stainless steel, belong to the brand's best sellers.
One who is interested in high-end watchmaking and appreciate a beautifully finished movement will surely value the PanoInverse and PanoMaticInverse models from Glashütte Original. To capture the beauty of these models, we decided to do a little video of both the PanoInverse in steel and the PanoMaticInverse in red gold.
Conclusion
Pricing and Availability
The watches I have featured in this article are the PanoInverse (Ref.: 1-66-06-04-22-05) and the PanoMaticInverse (Ref.: 1-91-02-01-05-30). The steel PanoInverse has a retail price of 10,500 Euro (including 19% VAT) and the red gold PanoMaticInverse has a retail price of 25,000 Euro (including 19% VAT). The steel model comes on a grey nubuck alligator strap with folding clasp, and the red gold model on a brown nubuck alligator strap with folding clasp (in gold). The PanoMaticInverse is also available in steel and retails for 12,500 Euro (including 19% VAT).
None of these models are limited editions and available via the Glashütte Original boutiques and network of authorized dealers.
Thoughts
I am convinced that this watch is not for everyone out there, but nor does it need to be in my opinion. As written earlier, if you appreciate high-end watchmaking – perhaps especially German watchmaking – the PanoInverse and PanoMaticInverse really show what Glashütte Original is capable of, without showing off with extra-ordinary complications. This is also reflected in the price, as these models start at 10,500 Euro for the steel PanoInverse and 12,500 Euro for the self-winding version. I was a bit more drawn to the self-winding version in red gold. The back side of the watch has some action, where the hand-wound model shows perhaps a bit too much of plate for me. Furthermore, I am much in favour of gold watches these days. Regular readers are probably aware of my slight preference for gold watches since recent years. I love the warmth of the red-gold colour of the case (and folding clasp) and in case of the PanoMaticInverse, it gives a really nice contrast to the movement. But I also realize I am in the minority still, but for those there are two stainless steel models to choose from (and an additional bracelet).